Free NYU Stern MBA Essay Samples   

|

  
Aringo consultants are the top in the world!
A) My personal experience with Stern started about a year ago. While researching one of my most exciting interests, the investment world, I stumbled upon the great webcasts of an NYU professor named Aswath Damodaran, who was speaking about company valuations. I was fascinated by Prof. Damodaran's thorough understanding of the finance world and the way he delivered such complex content in a clear and understandable manner. So when I decided to pursue an MBA degree, NYU was the first school that came to my mind.
I then spoke with a current Stern student who told me about Stern's great community, the endless opportunities the school opens to enhance its students' careers and the exceptional and flexible curriculum that allows students to customize coursework to meet each individual's goals.
B) Besides being excited naturally to take Prof. Damodaran's Corporate Finance class, I am looking forward to taking on the NYC Case Studies initiative program that includes a unique experiential learning process in real-life businesses at the heart of the world's business center – New York. Applying theoretical material learnt in the classroom to practical real-life business problems will prepare me to handle the complex business situations that I will surely face in my post-MBA positions.
NYU Stern's Consulting Corps program is another program I would like to take part in. Analyzing a business and giving consultation along with helping the community seems very exciting and enriching. Also, engaging with mentoring consultants who will help me to understand how to improve a business can prepare me for.
In exploring the extracurricular activities that Stern offers, I was amazed by the number that attracted me personally. One example is The Association of Investment Management (AIMR), where I can enhance my knowledge in the field of Investment, share my thoughts from my own past experience and learn from others what makes them prefer one company over the other. I definitely plan on participating in the Stock Pitch Competition and company visit events the AIMR arranges. Seven years ago, after listening to an uninformed bank investment advisor, I decided to take control of my own portfolio, and have never looked back. During this time I read several books in the field of investment, daily finance newspapers and opinion columns of famous investors. Today I have developed a high enough level of expertise to help family and friends to compose and mitigate risk in their own personal portfolios, and I would be happy to share my knowledge with fellow members.
Another club I'm keen to take part in is the Soccer Club. As a former referee and an amateur player for the last 15 years, soccer is one of my favorite pastimes. I will be happy to offer the Soccer Club members the benefit of my knowledge about game rules and would be thrilled to take part in the club's tournaments.
During undergraduate school, while focusing on finance, I also took special interest in studying management. Constant interaction with people makes any type of management an ever-changing, thus interesting, occupation.
Towards the end of my first college year, I started working in my country's largest mortgage bank. One of the first questions I asked during the job interview was whether the bank offers management training programs. Almost two years later, the organization's training center publicized a tender for a new "Future Management Course". The requirements included, among others, having commercial-banking experience, as well as a college degree – two demands I did not meet at the time. I did not let this stop me, however. Knowing that I wanted to become a manager, I was determined to apply for the program. My supervisor supported this and gave me a recommendation for the tender, yet, he claimed that in such a large organization, applying without fulfilling all requirements was pointless. I had to persuade the admissions committee that I could handle participating in the program while completing my college education, and overcoming gaps in professional knowledge. The effort paid off. I was accepted into the program, thus creating two precedents: I became the first person to be accepted into this program before completing a college degree, and the first to do so without any previous experience. The program required that I move from the Mortgage Department to the Commercial Division, where I am currently employed as a Private Accounts Manager.
During college, I decided that when the time was right, I would acquire an MBA education. Now is the perfect time for me to do so. On the one hand, I have gained several years of work experience. On the other hand, I am still at the beginning of my career and believe that an MBA degree from a world-class business school such as Stern will help me mold an effective managerial style.
In addition to these considerations, I would like to make a career change. In my current, position I recruit new clients and market financial products. In the future, I hope to engage more with the essence of finance, rather than the marketing of it.
Upon completing my MBA, I hope to work as a financial consultant in a leading investment bank such as Goldman-Sachs or JPMorgan. More specifically, I would like to help companies develop their equity structure and financial strategy in order to maximize their financial utility. As a consultant, I will gain experience developing economic strategy by doing financial analysis, profit-cost considerations, and research regarding competing firms.
I hope to grow within my organization and become involved in the financial management of the firm, eventually reaching the position of CFO. In this role, I will be called upon to set the financial agenda of the bank, determining policy and deciding which industries to get involved in. I will be required to successfully manage dozens of people, having to motivate and guide them toward executing our strategy. Yet my aspirations do not stop there.
After gaining expertise in capital and equity finance, and acquiring leadership experience, my dream is to man senior positions in the public financial sector. I was raised on values such as actively contributing to my country's security and future, therefore I would like to build up its financial strength by developing its capital markets. I hope to assume leadership roles in such bodies as the Ministry of Treasury or the Securities Authority. The path of gaining experience and expertise in international financial institutions, and then taking positions in the public sector, has been followed by a number of key figures.
About a year ago, during a trip in New Zealand, I decided I want to pursue an MBA, preferably in New York. When the trip was over I visited my neighbor, who was considering the school, to borrow a brochure of the school. In the following weeks I took some time to read the brochure and search for specific courses and activities in the school's website. It was then when my interest in Stern grew considerably.
Several months later, I decided to visit Stern, in order to learn more about the school, its students and the community life. I made contacts with 3 first-year students and they agreed to accompany me on my visit. Visiting Stern last month was a great experience for me. I joined a class in "Foundation of Finance", where I learned about optimal portfolios with multiple risky assets, and attended an information session, where I discovered that up to 25% of all classes can be taken at NYU graduate schools other than Stern. When I came back home I participated in another information session, hosted by Heather Daly. I was especially impressed by Daly's remark that Stern offers 22 specializations in various areas.
What most excites me about Stern academically is the Berkley Center for Entrepreneurial Studies, and particularly the Innovation & Entrepreneurship Lab. I know that this lab, together with the variety of other courses and activities the center offers, will greatly improve my entrepreneurial experience by pointing me in the right direction as to working on a venture during my years at Stern.
From an extracurricular perspective, what most excites me is the Technology and Media Group student club. I believe that the firsthand experience of meeting leading executives in technology companies as part of the club's career treks will be very beneficial to my long-term career goal of becoming a CEO at a large software company. I am also excited about the Office of Career Development, which I believe will be a great asset for me in finding my post-MBA dream job.
As a student at Stern, I would like to leverage my extensive teaching experience, which includes among others positions as a volunteer tutor and a university TA – to leave a mark that will live on long after I graduate: something that will contribute not only the Stern community, but also the New York society. I plan to establish and lead a club devoted to tutoring high school children from New York who cannot afford taking private lessons, helping them pass their matriculation exams.
My vision is of a club that would aim not only at providing the children with free tutoring sessions to improve their academic performance, but also at enriching their mind, by allowing them to interact with Stern students and exposing them to new fields they may not have been aware of. I believe that with my experience and ambition to succeed, the club will quickly become very active.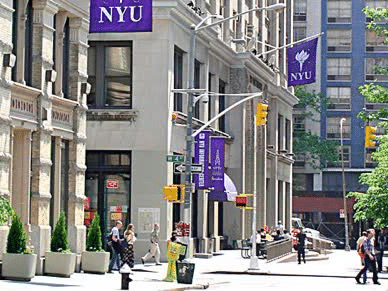 How can you improve your
NYU Stern MBA Essays?
Aringo's experts can help you present yourself best
Try our admission
chances calculator