Free LBS MBA Essay Samples   

|

  
Aringo consultants are the top in the world!
My leadership experience includes mainly my managerial experience at my company. The greatest challenge I faced was building my research team at my company.
When I entered my current position, after the replacement of the company's CEO, I knew I had to make changes in the company's structure and methodologies. Up till then, the company was a "one man show". The previous CEO had worked directly opposite freelance analysts, and neither organized work processes nor research methodology existed. The company relied solely on the analyst's personal abilities, which caused inconsistency in projects' quality and customers' dissatisfaction.
In order to change that, I hired 5 research managers, re-defined responsibilities and tasks throughout the company, and spearheaded the formulation of a new research methodology. The new methodology gave us an edge over our competitors, and established the company as a brand name for quality research.
One of the most difficult decisions I had to make was firing Karen, a veteran member of my team. Transforming my company into a leading research firm required a devoted team that was committed to this goal, and willing to make extra efforts. This vision did not fit Karen. She was looking for a laid back position, and although talented, she did only the necessary minimum.
I faced a tough decision. On the one hand, to fire an experienced employee, in a time when most of the employees were new, seemed unwise. On the other hand, not firing her would mean establishing double standards for our employees, and might cause resentment in the entire team.
After I failed to change her attitude, I decided to fire Karen. Although I knew that in the short run things would get difficult, I concluded there was no other way. I needed the most dedicated team possible, and Karen, as head of a major division, would have undermined this effort in the long run.
Personally, making the decision was very hard. It meant firing a colleague, with whom I had worked closely for a long time. However, in the long run, team spirit improved greatly and I succeeded in building the right team to lead the company forward.
I believe that the role I will play in my study group will be the level-headed planner, who analyzes a complicated situation, prioritizes tasks, and assigns responsibilities. I will be the one that tries to find the solution when there seems to be a dead end and points out the hard facts that others prefer to overlook. When other people are in charge, I will be the one they go over their plan with, in order to find pitfalls and loose ends. On the other hand, I'll also be the one encouraging the team that we can conquer whatever destination we set our mind into, and willing to take a risk in order to achieve that.
5 years from now I intend to advance to a business development director at a large multinational corporation, in charge of a specific geographic location or a new business segment, and leading business steps such as Google entering the mobile phone market, or Vodafone entering the African market. Another viable option is running a new subsidiary in locations such as Asia or Africa, building a foundation to the company's business in that country.
My longer term vision is becoming the CEO of a major telecom company, such as Vodafone. I want to be the one that directs the course, creates a vision and executes it. I believe that a successful CEO has to have the skills to hire the right people to run the every-day business, while he worries about future business directions. A path of management roles in large corporations that focus on business development will serve as the necessary ground for being an innovative leader hopefully leaving my mark on the telecom industry, and at some point I do see myself putting my knowledge and experience into my own company, and surprising the telecom market with an innovative product or service.
As a journalist, I have sought to bring about change by illuminating incongruities in the world. After nine years at the largest media conglomerates, I feel the news industry can go further to improve the lives of those we report on. I have acted on this belief, training citizen reporter networks in Burma, China and Palestine, initiating video-diary projects, and establishing a non-profit organization for video-activists (Videre est Credere). Yet, I believe I can do more to impact social change through media by encouraging further industry support for citizen journalists in conflict and development zones.
Post MBA, I will work towards this vision by seeking a management position in new media business development at an organization like BBC or Time Warner. I will work to foresee trends in new news media and maximize strategic management of emerging technologies to supplement both content and unique platform monetization. While formulating strategic plans to match radical changes currently facing the news industry, I will also gain management experience in pilot programs pushing media development that encourages industry integration of citizen journalists.
My work launching Videre confirmed the change-bearing power of social media for conflict regions and provided me with tools to create this reciprocal dimension within the news industry. This has been a step towards my long-term goal of establishing a dot-com news organization powered by citizen journalists. On a sabbatical this spring, through the Atkin Fellowship from King College's Center for Political Violence, I will investigate the premise of my career vision by researching the impact of citizen journalism versus mainstream media in the Middle-East. I hope to build on this momentum with my subsequent MBA studies to help me gain practical tools to establish a revenue-producing social media venture, which could serve as a model for the larger industry.
I look towards an LBS MBA for the skills to translate my experience producing media content into managing content platforms and developing business frameworks for news organizations. LBS's strengths in international management and entrepreneurial development first attracted me. Speaking with several alumni in the Media and Strategy sectors, I confirmed how foundational skills in strategy, finance and entrepreneurship would prepare me for a senior business development role and eventually help me found a media company with a social development agenda.
I was further encouraged learning about the Center for Creative Business, and with courses like Prof. Keith Waley's "Managing the Growing Business" and "Financing the new venture". I believe the Center and courses like John Bates' "New Creative Ventures" would help me identify new global trends and opportunities to advance my vision. In addition, Professor Michael Hay's "Social Entrepreneurship in the 21st century", combined with joining the Global Social Venture (GSVC) Competition, and the E100 network, would allow me to develop a new viable business plan for my future venture. The Responsible Business Club and Asperastra Consulting would also engage me with ideas and initiatives gaining ground in sustainable development and social enterprise fields.
Most importantly, LBS's location (at the international news nexus) would expose me to industry leaders and trail-blazers to help launch my career. In addition to visiting speakers and case-study field-trips, I would use the first year audit of the "Managing Organizational Behavior" course to study operational workings of a London media organization. Then I would pursue a Shadowing Project at a different media firm for a broader industry perspective. My media colleagues also confirmed the networking benefits of LBS's Media Club, and Rebecca Otto confirmed the real-world value of LBS's location and its particular advantage to my future career.
I am thrilled by the real-world context of LBS's opportunities and I believe LBS is the perfect launching ground to translate my experience in media production to a larger scale with an eye to establishing my own media venture in the future.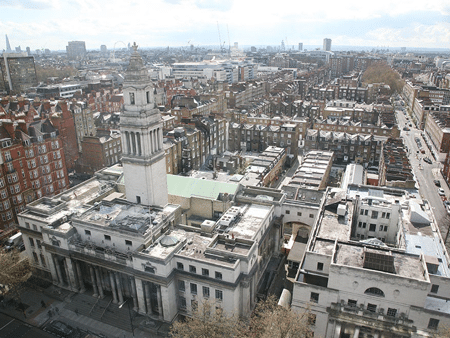 How do Aringo's clients do when they apply to LBS?
Aringo's admission rate is 254% higher than LBS's average.
How can you improve your LBS
MBA Essays?
Aringo's experts can help you present yourself best