Free Columbia MBA Essay Samples   

|

  
Aringo consultants are the top in the world!
As one of three company lecturers at my company, I have delivered talks in my country and abroad. One of my favorite tasks is to speak about how security is one of the most important aspects of any IT project. In theory, at least.
As a soldier and later an officer in the military Computer Corps for 7 years, my first and only goal (and that of my clients) was national security. Theory and practice were the same. I told clients what they needed to do, and they had no choice but to comply. Outside the army, it was a completely different story.
As a new legal hacker at my company in 2005, I started to comprehend the magnitude of the differences between the army and private industry that would force me to learn that the army theoretical experience was far from the reality of the civilian world.
In one example of a situation in which I needed to discriminate between practice and theory, I traveled to a bank in Zurich, Switzerland for a project. After performing a vulnerability assessment, I found many critical vulnerabilities that actually allowed people to steal money from the bank. While these were exciting results for me, bank managers were less responsive than I expected when I presented my findings. Though I was initially surprised that they were more concerned with business as usual than with dealing with security issues, I zoomed out and saw that the bank's first priority was to make money.
From my strictly security point of view, these types of vulnerabilities need to be remedied in days. The bank, however, was thinking about the loss of potential business that could result from the process of remediation of the problems. The bank project manager's priorities are to keep his customers happy, to keep the system up and running, and to invest as little money as possible for issues that aren't customer-demanded.
I live in the security world. If it had been up to me or in the army, I would have shut down the bank's system completely for a few days to fix the problems completely. For me, security is central. But I came to understand that while in theory security is very important, in practice, organizations have higher purposes. For bank managers, security is peripheral. I realized that in the real world, customers call the shots. My challenge is to present the importance of my findings and to effectively stress the danger it poses to the core business, but also to accommodate the client's needs and priorities. Once I made sure that the business effect of my findings was understood by bank personnel, we agreed on a timetable that would keep the system safe but wouldn't unnecessarily disrupt the activities of the bank's clients.
Working the last four years in private industry, I've come to an understanding: while in the army computer security related theory and practice coincide, in the private sector there is a great difference between the two. It's important to know computer security theory and how rules should apply regardless of outside influence, but in practice things are more complicated when many new factors come into play.
My long-term professional goal is to start my own medical technology venture. Many of the projects I have been working on in the Technology Unit of the Intelligence Directorate utilize technologies that are applicable to medical devices. Over the years, out of research and personal interest, I have come up with several innovative ideas that I believe can improve diagnosis and procedures in fields of dental health and cardiology.
The roles I have held in 10 years of military service have required me to implement and develop my teamwork, management and leadership skills, as well as my cognitive and engineering skills. My strong understanding of the challenges introduced by technology, gained through all levels of involvement in interdisciplinary technological projects, from an engineer, through team and department leader, to project manager, will contribute to the success of the initiative.
However, I need an MBA to learn how to transform my ideas into a viable business. I must learn skills related to finance, marketing and strategic planning, in order to participate in the entire process of developing new technologies, and I believe that Columbia Business School offers unparalleled opportunities in the fields of entrepreneurship, product management and healthcare.
I feel now is the right time for me to take all that I gained from my significant military service experience, as well as my initial foray into entrepreneurship, and take it forward with me to the world of business. Since I feel that my military service has already enabled me to make a significant contribution, and since I have grown and developed over the past 10 years, I have now decided to challenge myself in new ways. An MBA at Columbia Business School is the best way for me to transition from the military arena to the world of business, with the help of such organizations as the Military in Business Association.
The Healthcare and Pharmaceutical Management Program offers great focus and opportunities in the field of healthcare. I found that the emphasis put on an entrepreneurial mindset, combined with healthcare-specific courses, fit exactly with my goals. The Pharmaceutical Development and Commercialization Workshop, which covers the entire lifecycle of a product, will give me a broad understanding of how a healthcare product is developed and marketed. Also, after some research about the Healthcare Industry Association, I have learned that HCIA works closely not only with the administration and the director of the healthcare program at CBS, but also with alumni industry professionals, and arranges the CBS healthcare conference annually. In addition, HCIA's networking events, career opportunities, panels and support in the recruiting process make it a strong advantage to students who are interested in developing in the healthcare industry. I would love to contribute to this club, since I believe it can enhance greatly the influence of Columbia Business School in the field of healthcare, and can strengthen Columbia's reputation as a gateway to the healthcare business industry for students who are interested in that field.
The school's location in the heart of New York City, a city I love and have visited several times, is appealing for both my partner and me. I am relocating with my wife, and her interests and career opportunities are a significant factor in my program selection. She has many professional and academic opportunities in the city. Regarding me, the fact that NYC is the home to some of the world's largest healthcare corporations is a major advantage.
In order to learn first-hand about the unique CBS spirit and atmosphere, my partner and I plan to include a campus visit on our honeymoon trip this October.
I am related to Joe Lango, a famous geologist who, after 40 years of futile drilling, lost his financial backing and had to relinquish his stake in what, a month later, became the largest find of natural gas in our country's history.
I was always inspired by Joe's persistent character, his pivotal role in this discovery, and his talk of a cleaner future, the need to free our country from its dependency on oil.
Joe was left with bragging rights only; the story painfully demonstrates how much is on the line when it comes to energy financing. That's why after graduation I intend to join a leading investment bank, such as Credit Suisse or Morgan Stanley, and concentrate on their energy practice. Those firms are hands-on participants in clean energy assimilation, and positioned to advocate regulatory changes. They are also among Columbia's top recruiters.
That will be my first step towards achieving my ultimate goal – to lead a vehicle dedicated solely to investments in renewable energy projects. The $1.1 Billion Hudson Clean Energy Partners, a Private Equity fund I know firsthand from working on its investments in my country, is my beacon in setting this goal.
At university, I volunteered for the Clinical Program for Environmental Justice. This program taught more than just social environmental theory. I actively participated in several petitions to the Supreme Court, as well as promoted the adoption of a "Polluters Pay" bill.
My conviction that sustainability and business development are intrinsically contradictory was inverted, however, when I joined Veolia Environment. As part of a technical-legal-financial team qualifying projects for registration under the Kyoto Protocol, I learned firsthand how sustainability can be incorporated into international businesses' long-term strategic plans.
I also worked closely with CEO's in the group and realized that eventually I strongly wanted to aim for international management.
Today, I am lucky to be on the Infrastructure Project Finance team at Tadmor & Co., where I had the "eureka!" moment for my career trajectory, after representing institutional investors, investment banks, and target companies in some of the most innovative, ground breaking renewable energy deals in my country.
Team-working to structure a $100 million mezzanine financing for a solar energy company, I witnessed how new investing solutions are tailored. The Decision Brief method, invented at Columbia by Dean Hubbard, will be the ideal tool for me to hone such problem solving skills, and redirect them from my previous experience in the military and as a lawyer. The opportunity to study with professors such as Bruce Greenwald, a leading authority on Value Investing, will complement those skills with a deeper understanding of investing considerations, another gap of mine.
Electives such as Introduction to Venturing, and Strategy For High Tech Companies also came highly recommended by a Columbia alumnus I've spoken with, to help me think strategically about renewable energy project venturing.
Columbia's program is exactly the inspiration I need to establish a renewable energy investment venture. Perhaps I'll try for a 2012 win, similar to Columbia's winning student team at the 2008 GSVC, with their business plan for MicroEnergy Credits Corp, using connections between emissions cap-and-trade market and the Internet to make resources such as solar lighting available to those without access to electricity.
With almost 40% international students, representing over 50 countries, Columbia will help me develop leadership and management skills in a true international context, while I contribute to my classmates' learning experience from my own. I intend to take full advantage of the opportunity through a club membership.
Through email correspondence with Ramsey Troughton ('11), I learned that the Energy Club provides summer internships and full time opportunities to work in energy finance at larger firms and smaller boutiques. The Private Equity & Venture Capital Club, and the Investment Banking Club (IBC), are just as relevant, providing assistance in meeting industry recruiters.
The field of renewable energy has limitless growth potential; take, for example President Obama's plan, outlined last year, to spend $209 billion from the federal budget and economic stimulus funds to promote clean energy. I cannot wait to learn and be challenged daily by the best and brightest from around the world at Columbia, as I prepare, personally and professionally, to jump into this developing world.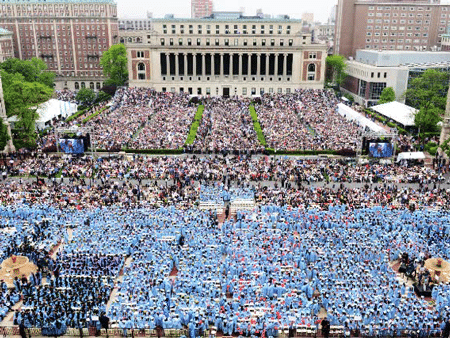 How do Aringo's clients do when they apply to Columbia?
Aringo's admission rate is 93% higher than Columbia's average.
How can you improve your Columbia MBA Essays?
Aringo's experts can help you present yourself best